Source: cdn-0.johnnyafrica.com


Introduction to Corfu, Greece
Welcome to Corfu, Greece, your ultimate travel destination! Corfu is situated in the Ionian Sea and offers breathtaking natural beauty, rich history, and a vibrant culture that will mesmerise you. Whether you are an adventurous explorer, a history enthusiast, or simply seeking relaxation on stunning beaches, Corfu has something to offer everyone.
Overview of Corfu's history and geography
Corfu has a fascinating history that dates back to ancient times. Various civilisations have influenced the island, including the Greeks, Romans, Byzantines, Venetians, and more. Its strategic location in the Mediterranean has made it a coveted territory throughout history. From the imposing Corfu Old Town, a UNESCO World Heritage site, to the numerous fortresses and museums, you will be transported back in time as you explore the island's rich past.
Regarding geography, Corfu boasts lush green landscapes, crystal-clear turquoise waters, and stunning beaches. The island is known for its diverse terrain, from rugged mountains to picturesque coastal cliffs. Whether you want to hike in the majestic mountains or relax on pristine beaches, Corfu offers many outdoor activities to satisfy your wanderlust.
Best time to visit Corfu for optimal weather and experience
The best time to visit Corfu is spring (April to June) and autumn (September to October). The weather during these seasons is mild and pleasant, making it ideal for outdoor activities and exploring the island. The summer months (July and August) can be hot and crowded, but they are perfect for beach lovers who want to soak up the sun and enjoy the vibrant nightlife.
No matter when you choose to visit Corfu, you will be captivated by its beauty, history, and warm Mediterranean charm. So pack your bags and prepare for an unforgettable adventure in this Greek paradise.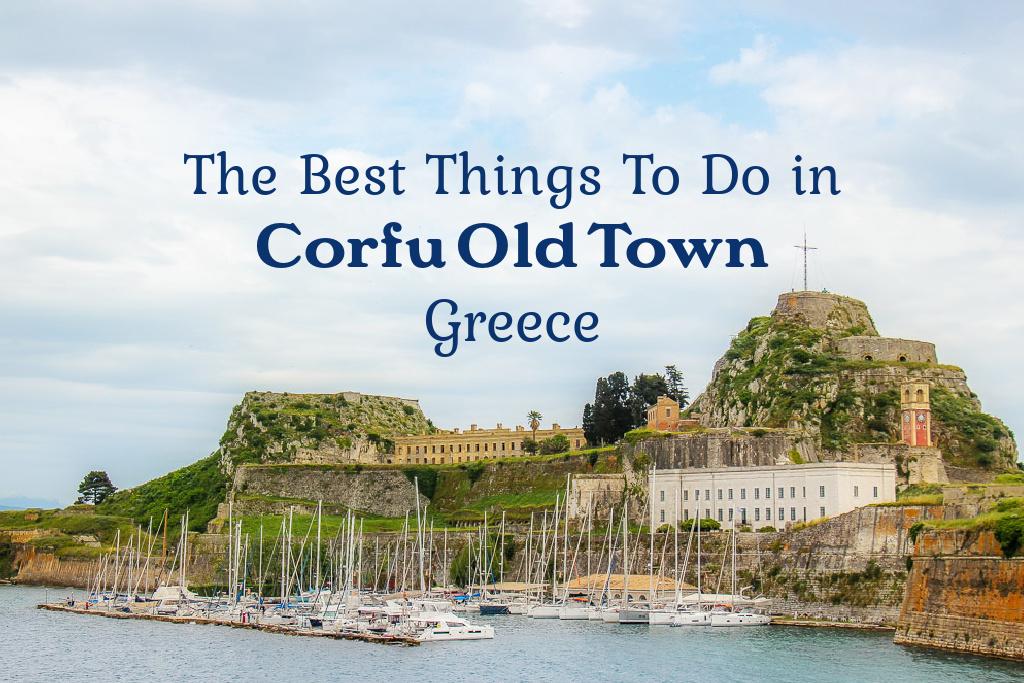 Exploring Corfu Town
If you're planning a trip to Greece, don't miss the opportunity to visit the beautiful island of Corfu. Corfu Town, the capital of Corfu, is a charming destination that offers a delightful mix of history, culture, and stunning architecture that will captivate your senses.
Corfu Town's charming old town and its main attractions
Corfu Town's old town is a UNESCO World Heritage site, and it's not hard to see why. As you wander its narrow streets, you'll be transported back in time with its Venetian-influenced architecture, colourful buildings, and charming squares. Visit the iconic Liston, a beautiful promenade with cafes, shops, and restaurants. You can also explore the Old Fortress, which offers breathtaking views of the town and the Ionian Sea. Don't miss the chance to visit the St. Spyridon Church, the patron saint of Corfu, known for its stunning frescoes and beautiful bell tower.
Delicious local cuisine and famous restaurants in Corfu Town
When it comes to food, Corfu Town has a culinary scene that is sure to delight any food lover. Indulge in delicious local Greek cuisine, including fresh seafood, traditional Greek dishes like moussaka and souvlaki, and the famous Corfiot pastitsada. You'll find plenty of charming restaurants and tavernas where you can savour these mouthwatering flavours. Don't miss the opportunity to enjoy a meal in one of the lively squares, surrounded by historic buildings and a vibrant atmosphere.
Whether you're exploring the rich history of the old town or indulging in the local gastronomy, Corfu Town is a must-visit destination that will leave you with unforgettable memories.
Discovering Corfu's Beaches
Corfu is known for its stunning beaches, crystal-clear waters, and picturesque landscapes. Whether you're looking for a relaxing spot to soak up the sun or want to engage in fun water activities, Corfu has something for everyone. Let's explore some of the top beaches the island has to offer:
Top beaches in Corfu for relaxation and water activities
Paleokastritsa Beach: Nestled in a picturesque bay, this beach offers calm turquoise waters, perfect for swimming and snorkelling. Lush green hills surround it and provide a tranquil escape from the bustling city life.

Glyfada Beach: With its soft golden sand and clear waters, Glyfada is a popular choice for beach lovers. You can lounge on the sunbeds, enjoy water sports like jet skiing and paragliding, or swim.

Sidari Beach: Famous for its unique rock formations, Sidari Beach offers stunning landscapes and clear blue waters. It's an ideal spot for snorkelling and exploring underwater caves.
Hidden gems and off-the-beaten-path beaches in Corfu
Agios Georgios Pagon Beach: Located on the northwest coast of Corfu, this secluded beach is tucked away from the crowds. Its unspoiled beauty, crystal-clear waters, and serene atmosphere make it a hidden gem worth discovering.

Porto Timoni Beach: Accessible through a short hike from the village of Afionas, Porto Timoni is a hidden paradise. It features two stunning bays with turquoise waters and dramatic cliffs, offering a breathtaking view of the Ionian Sea.

Myrtiotissa Beach: Known as Corfu's unofficial nudist beach, Myrtiotissa is nestled between cliffs and lush greenery. Its secluded location and natural beauty attract those seeking a more peaceful and liberating beach experience.
From the popular beaches to the hidden gems, Corfu offers a diverse range of options for beach lovers. Whether you're looking for relaxation or adventure, you're sure to find your perfect beach paradise on this beautiful Greek island.
Exploring Corfu's Nature and Outdoor Activities
Corfu, a picturesque Greek island in the Ionian Sea, offers visitors a wealth of natural beauty and exciting outdoor activities. From stunning landscapes and nature reserves to thrilling water sports and hiking opportunities, there's something everyone can appreciate in this enchanting destination.
Corfu's stunning landscapes and nature reserves
Corfu is known for its diverse landscapes, which include lush green mountains, verdant valleys, and pristine beaches. The island is home to several nature reserves and protected areas, such as the beautiful Acharavi Wetlands and the Corfu Shell Museum, where visitors can explore and appreciate the region's rich biodiversity. Whether you love bird watching, hiking amidst breathtaking scenery, or simply immersing yourself in nature, Corfu has plenty to offer.
Outdoor activities like hiking, biking, and water sports in Corfu
For adventure enthusiasts, Corfu is a paradise. The island's rugged terrain makes it an ideal destination for hiking and biking, with numerous trails and paths to explore. From strolls through olive groves to challenging mountain routes, a hiking or biking adventure suits every skill level.
Water sports enthusiasts will also be delighted by the range of activities available in Corfu. From jet skiing and parasailing to snorkelling and scuba diving, there's no shortage of water-based adventures to keep visitors entertained and exhilarated.
Whether you're a nature lover or an adventure seeker, Corfu promises an unforgettable experience. Explore the island's stunning landscapes, immerse yourself in its rich biodiversity, and engage in thrilling outdoor activities that will leave you with lifelong memories. Corfu truly offers an escape into nature like no other.
Exploring Corfu's Historical Sites
Must-visit historical sites and landmarks in Corfu
History enthusiasts are in for a treat when visiting the Greek island of Corfu. The island boasts a rich cultural heritage that can be explored through its numerous historical sites and landmarks. Here are a few must-visit places:
Old Fortress: Perched on a hill overlooking the town of Corfu, the Old Fortress dates back to the Byzantine era. Visitors can explore its imposing walls, visit the Museum of Byzantine Antiquities, and enjoy breathtaking views of the town and the sea.

Achillion Palace: Built in the 19th century for Empress Elisabeth of Austria, also known as Sisi, the Achillion Palace is a stunning neoclassical mansion surrounded by beautiful gardens. The palace offers a glimpse into the opulent lifestyle of the European aristocracy and houses a collection of art and historical artefacts.

Mon Repos: Located in the Kanoni area, Mon Repos is a neoclassical villa set amidst lush greenery. It was the birthplace of Prince Philip, the Duke of Edinburgh. Visitors can explore the villa's rooms and stroll through the tranquil gardens.
Learn about the rich history and cultural heritage of Corfu
Corfu's history is as fascinating as it is diverse. Over the centuries, the island has been influenced by various civilizations, including the Greeks, Romans, Byzantines, Venetians, French, and British. This blend of cultures has impacted the island's architecture, cuisine, and traditions.
To delve deeper into Corfu's history, consider visiting the Corfu Museum of Asian Art, which houses an impressive collection of Asian artefacts, or the Archaeological Museum of Corfu, where you can learn about the island's ancient past.
Exploring the historic town centre, Corfu Old Town, is a must-do activity. With its narrow streets, Byzantine churches, Venetian fortresses, and colourful buildings, it is a UNESCO World Heritage site that showcases the island's unique cultural heritage.
Whether you are a history buff or appreciate architecture and culture, Corfu offers a wealth of historical sites to discover and explore.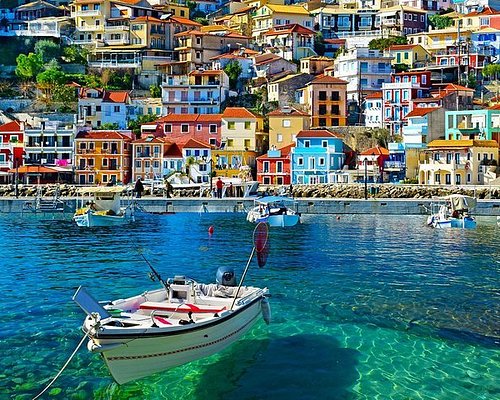 Day Trips and Excursions from Corfu
Recommended day trips and excursions from Corfu
If you want to explore more than just the beautiful island of Corfu, you're in luck! There are plenty of exciting day trips and excursions that you can take to make the most of your time here. Here are a few recommendations to consider:
Achilleion Palace: Visit the stunning Achilleion Palace, a former vacation home of Empress Elisabeth of Austria. Explore the beautiful gardens and enjoy panoramic views of the island.

Paleokastritsa Beach: Head to Paleokastritsa, known for its crystal-clear waters and picturesque scenery. Enjoy swimming, sunbathing, and snorkelling in this idyllic beach destination.

Boat Trip to Paxos and Antipaxos: Take a boat trip to the nearby islands of Paxos and Antipaxos. Discover hidden coves, swim in turquoise waters, and soak the Mediterranean charm.
Nearby islands and attractions to explore from Corfu
If you're looking to venture further from Corfu, there are several nearby islands and attractions worth exploring:
Albania: Take a short ferry ride to Albania and explore the ancient city of Butrint, a UNESCO World Heritage Site. Discover its archaeological treasures and immerse yourself in history.

Ionian Islands: Embark on an island-hopping adventure and visit other enchanting Ionian Islands, such as Zakynthos, Kefalonia, and Lefkada. Each island offers its unique charm and attractions.

Achillion: Journey to the mainland and visit the ancient site of Achillion. Explore the ruins and learn about the history and mythology associated with this fascinating archaeological site.
With so many options for day trips and excursions, your time in Corfu will be filled with adventure and discovery. Don't forget to bring your camera and soak in the stunning landscapes and rich history this Greek island offers.
Where to Stay in Corfu
Different areas and accommodation options in Corfu
When planning a trip to Corfu, choosing the right area to stay based on your preferences and interests is essential. The island offers a range of options for all types of travellers.
If you prefer a lively atmosphere with bustling nightlife and a vibrant dining scene, consider staying in Corfu Town. This charming UNESCO-listed old town has narrow streets, colourful buildings, and many shops, restaurants, and bars. You'll also find various hotels, from luxury establishments to budget-friendly options.
For those seeking a more tranquil experience surrounded by nature, the northern coast of Corfu is worth exploring. The towns of Sidari, Roda, and Acharavi offer beautiful beaches, crystal-clear waters, and a relaxed ambience. You can find beachfront resorts and smaller family-run accommodations in these areas, perfect for a peaceful getaway.
For a taste of traditional Greek village life, head to the inland villages of Pelekas, Benitses, or Paleokastritsa. These charming towns provide a glimpse into the local culture, with cosy guesthouses and traditional tavernas serving authentic Greek cuisine.
Luxury resorts, budget-friendly hotels, and unique stays in Corfu
Corfu caters to travellers of all budgets, offering a range of accommodations to suit every need. If you're looking for a luxurious stay, the island boasts several high-end resorts with stunning sea views, private pools, and top-notch amenities. These resorts can be found in Kontokali, Dassia, and Kassiopi.
If you're on a budget, fear not! Corfu has plenty of affordable hotels and guesthouses. You can find cosy family-run establishments in local villages or budget-friendly accommodations in tourist areas like Ipsos and Moraitika.
For a unique experience, consider staying in a traditional villa or apartment. These self-contained units offer privacy, space, and a chance to immerse yourself in the local lifestyle. Websites like Airbnb and Booking.com offer a wide selection of these accommodations throughout the island.
No matter where you stay in Corfu, you'll be greeted with the island's natural beauty, warm hospitality, and a wealth of activities and attractions to explore.
Local Culture and Festivals in Corfu
Experience Corfu's vibrant culture and traditional festivals
When you visit Corfu, you not only get to explore its stunning beaches, historical sites, and delicious cuisine, but you also immerse yourself in its vibrant culture and traditional festivals. The island is known for its rich heritage and lively celebrations that will leave unforgettable memories.
Learn about local customs, traditions, and celebrations in Corfu
One of the best ways to experience the local culture is by participating in the traditional festivals throughout the year. Here are some of the most popular ones:
Easter: Corfu's Easter celebrations are famous worldwide. Experience the solemn processions, where locals carry religious icons through the streets, followed by the joyous throwing of ceramic pots filled with water from balconies.

Carnival: Known as "Apokries," the Carnival in Corfu is a colourful and lively event. Enjoy the elaborate parades, vibrant costumes, and traditional music as the island comes alive with energy and excitement.

Feast of St. Spyridon: Celebrated on December 12th, this festival honours Corfu's patron saint. Join the locals in the religious processions, visit the church dedicated to St. Spyridon, and witness the fireworks and traditional music performances.

Corfu Music Festival: If you are a music lover, don't miss the Corfu Music Festival held during the summer months. Enjoy classical music concerts performed in beautiful venues across the island.
By taking part in these festivals and learning about local customs and traditions, you will gain a deeper understanding of Corfu's culture and create lasting memories of your visit.
Sample Itinerary for a Perfect Corfu Trip
Suggested itinerary to make the most of your time in Corfu
Planning a trip to the beautiful island of Corfu? Here's a suggested itinerary to help you make the most of your time and experience the best this Greek paradise offers.
Day 1: Arrival and Exploring the Old Town
Start your trip by exploring the charming streets of Corfu Town, a UNESCO World Heritage site. Visit the Old Fortress and stroll along the Liston promenade, lined with vibrant cafes and restaurants.
Day 2: Beach Day at Paleokastritsa
Head to the stunning coastal village of Paleokastritsa. Spend the day relaxing on the picturesque beaches, snorkelling in the crystal-clear waters, and exploring the nearby caves by boat.
Day 3: Discovering Achilleion Palace and Kanoni
Visit the Achilleion Palace, a beautiful neoclassical mansion with stunning gardens and panoramic views. Then, head to Kanoni, where you can enjoy breathtaking views of Mouse Island and the picturesque Vlacherna Monastery.
Day 4: Exploring the North Coast
Take a scenic drive along the north coast of Corfu. Stop by beautiful beaches such as Sidari and Barbati and explore the traditional villages of Kassiopi and Acharavi.
Day 5: Day Trip to Paxos and Antipaxos Islands
Embark on a day trip to the neighbouring islands of Paxos and Antipaxos. Enjoy swimming in the turquoise waters, visit the famous Blue Caves, and savour delicious seafood at a local taverna.
Day 6: Relaxation and Watersports at Glyfada Beach
Spend a day at Glyfada Beach, known for its golden sand and crystal-clear waters. Relax on the beach, try exciting watersports activities, and indulge in delicious Greek cuisine at the beachfront tavernas.
Recommended activities, attractions, and dining options for each day
Day 1:
Visit Corfu Old Fortress
Explore Liston promenade
Try traditional Greek cuisine at a local taverna
Day 2:
Relax on Paleokastritsa beaches
Snorkel or take a boat tour to the nearby caves
Enjoy fresh seafood at a beachfront restaurant
Day 3:
Visit Achilleion Palace and gardens
Enjoy panoramic views at Kanoni
Have lunch with a view at a restaurant in Kanoni
Day 4:
Visit Sidari and Barbati beaches
Explore the traditional villages of Kassiopi and Acharavi
Try local delicacies at a taverna in one of the villages
Day 5:
Take a boat trip to Paxos and Antipaxos islands
Swim in the Blue Caves
Enjoy a seafood lunch on one of the islands
Day 6:
Relax on Glyfada Beach
Try watersports activities such as jet skiing or parasailing
Have a beachfront dinner with a view at one of the beachside restaurants of Glyfada.
Tips and final thoughts for an unforgettable trip to Corfu
Explore the Old Town: Wander through the charming streets of Corfu Town's Old Town, with its narrow alleys, colourful buildings, and impressive Venetian architecture. Don't miss the Liston, a promenade with cafes where you can grab a coffee and people-watch.

Visit the Achilleion Palace: Take a trip to the Achilleion Palace, built for Empress Elisabeth of Austria in the 19th century. Admire the beautiful neoclassical architecture and the stunning gardens, which offer breathtaking views of the island.

Relax on the beaches: Corfu is known for its beautiful beaches, so spend time soaking up the sun and swimming in the crystal-clear waters. Some popular beaches include Paleokastritsa, Glyfada, and Kassiopi.

Try the local cuisine: Indulge in the flavours of Corfu by sampling local dishes such as sofrito (veal cooked in a garlic-white wine sauce), pastitsada (pasta with rooster in a red sauce), and bourdeto (spicy fish stew). Don't forget to try the local olive oil and kumquat liqueur!

Take a boat trip: Explore the coastline of Corfu by taking a boat trip around the island or to nearby islands such as Paxos and Antipaxos. Enjoy swimming in hidden coves, snorkelling in crystal-clear waters, and discovering secluded beaches.

Immerse yourself in the local culture: Don't miss the chance to experience Corfu's vibrant culture by attending a traditional Greek music and dance performance or visiting one of the island's many festivals and events.
Corfu is a destination that offers a blend of natural beauty, rich history, and delicious cuisine. By following these tips and recommendations, you will surely have an unforgettable trip to this Greek island paradise.